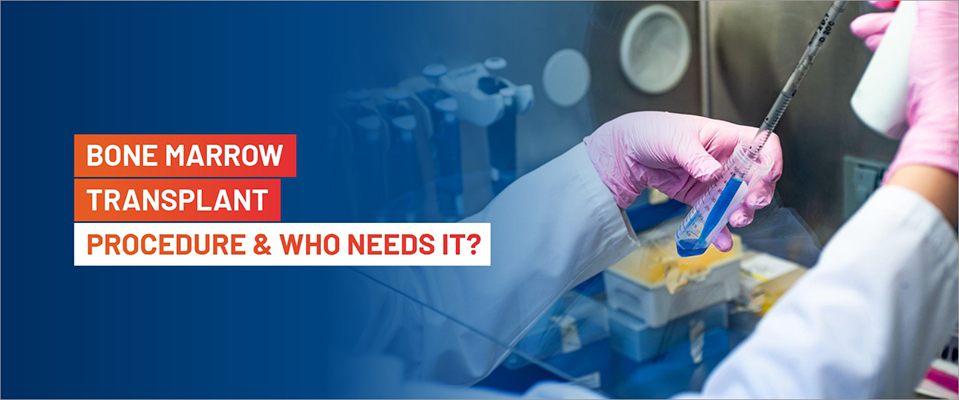 Medical Oncology
Dr. Reetu Jain | 24 March 2023
Although an intimidating procedure on the surface, Bone Marrow Transplants have gained quite a positive reputation in recent years! It has become a swift, concise, and successful treatment. In fact, knowing that India has one of the best success rates for bone marrow transplants—a staggering 60–90% success rate—is essentially extraordinary on its own.
If you're wondering what a Bone Marrow Transplant is, it is how the restoration of bone marrow that has been severely damaged by disease, infections, or chemotherapy is accomplished by a specialised procedure. And this specific procedure is called a bone marrow transplant.
Blood stem cells are implanted into the bone marrow during this procedure, where they support the growth of new marrow and produce new blood cells. A bone marrow transplant replaces your damaged stem cells with healthy ones. One should keep in mind that BMT is an appropriate treatment for both carcinogenic and non-cancerous illnesses like sickle-cell anaemia or thalassemia before moving further with this potential cure.
When we consider that the number of bone marrow transplants (BMTs) conducted annually in India has increased steadily over the past five years, it becomes crystal clear as to why such procedures have gained wide popularity. Over 2,500 BMTs are performed annually in India.
Types of Bone Marrow Transplant
Based on the source of the sample, Bone Marrow Transplant are of two types:
Allogeneic Transplants:

Cells from a donor are used in allogeneic transplants. A high genetic match is required between the recipient and donor.

Autologous Transplants

: A person's own stem cells are used in autologous transplants.
Who Needs A Bone Marrow Transplant?
A bone marrow transplant may be required when the chemotherapy or radiation dosage necessary to treat cancer is so severe that the patient's bone marrow stem cells may be irreparably harmed or destroyed by the treatment.
Additionally, you may need a Bone Marrow Transplant for the following reasons, as it necessitates the use of this procedure:
Marrow-specific malignancies

like
leukaemia

lymphoma

multiple myeloma
A genetic condition called congenital neutropenia leads to recurrent infections.

Myelofibrosis, Myeloproliferative disorders, Sarcoma, etc.

The genetic condition thalassemia causes the body to produce an abnormal form of haemoglobin, which is a necessary component of red blood cells.

Severely affected bone marrow.

Malformed red blood cells are a symptom of the genetic blood condition sickle cell anaemia.

Aplastic anaemia is a condition where the bone marrow ceases producing new blood cells.

If you have germ cell tumours.
The Procedure of A Bone Marrow Transplant
The bone marrow transplant procedure is detailed underneath:
The success of a bone marrow transplant for you will be decided by your physician. They will examine you physically and perform tests on your blood and organ functioning. They'll assess you and evaluate you properly before deciding to go forward with a Bone Marrow Transplant.

You'll make a hospital visit a few days prior to your transplant to have a tube called a central venous catheter inserted into a vein in your chest. It will be used by the hospital personnel to take a blood sample and administer medication. Up to the end of the procedure, it will remain there.

Approximately one or two days prior to your treatment, your donor's bone marrow will be collected if you're undergoing an allogeneic transplant. If your own cells are required, the stem cell bank will have them available.

A needle is used to retrieve cells from both hip bones during the bone marrow harvesting in the autologous procedure. Don't worry, you'll be unconscious and pain-free during this treatment because you're under anaesthesia.

For a few days prior to the procedure, you'll need to take a medication called filgrastim, which causes your bone marrow to produce and release a large number of stem cells.

The stem cells will then be extracted from your blood by your treatment professional using a device that draws blood from a vein on your arm. The remaining cells return to your bloodstream.

You will begin with a procedure known as conditioning. Typically, a large dose of chemotherapy is used, maybe in conjunction with radiation.

You'll receive fresh blood stem cells via the central venous catheter following a few days of recovery.

Your bone marrow is where the newly formed cells will develop into platelets, red blood cells, and white blood cells. This process, also known as Engraftment, can take two to four weeks to complete.

You'll then be directed to the recovery phase, where a team of meticulous medical professionals guide you through each and every stage.
Jaslok Hospital  — The Best Bone Marrow Transplant Hospital in Mumbai
Jaslok Hospital, the Best Bone Marrow Transplant Hospital in Mumbai, is aware of the difficulties associated with bone marrow transplant treatments. We place a strong focus on the calibre of the harvesting procedure, the transfusion methods, and the customer's treatment throughout the recuperation phase for precisely this reason.
With our team of professional medical practitioners, we've proved our esteem within the industry when it comes to the standards followed in our procedures. Our skilled medical personnel and their years of experience make our establishment live up to its name as the most proficient Bone Marrow Transplant Hospital in India.  The ease and convenience of our clients, who we take excellent care of, are incorporated into the development of every important component and service at Jaslok Hospital. In order to facilitate recovery, our primary aim is to cultivate an environment that facilitates it.
Hence, as the leading Bone Marrow Transplant Hospital, our services ensure a smooth, safe, and secure Bone Marrow Transplant journey for all of our clients—giving them the care they truly deserve.